Battery Widget Percentage Charge Level (Free)
6.1.7
Battery Widget for Monitoring Battery Level
If your phone's battery is draining quicker than usual then this battery widget can help you in determining its cause. Battery Widget Percentage Charge Level (Free) is a cool app that allows you to keep track of your battery consumption and identify the power-hungry apps on your device. It monitors your battery throughout the day and informs you when there is a steep decline in battery power. Moreover, it also tells you about the apps that have been consuming the most amount of juice. This widget also keeps you updated about the health and temperature of your battery and alerts you when it is time to recharge it. You can place this widget on the home screen to remain aware of the remaining battery power at all times.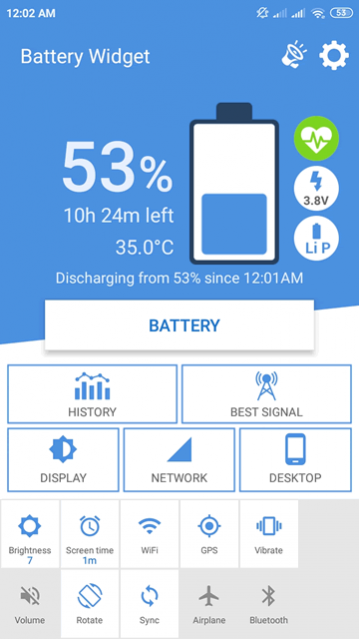 Battery Widget Percentage Charge Level (Free) has a user-friendly interface and simple design and layout. The combination of these two features makes this battery widget very easy to use. On the home screen of this app, you will find all the details about your phone's battery. This includes the percentage of the battery power left as well as the battery's health, type, and temperature. You will find the options for limiting your phone's battery consumption on the home screen of the app too. These options include the brightness of the display, the network connection, and your phone's desktop. You can make changes to them to limit the drainage of battery power. In addition to these options, you can turn off Wi-Fi and Bluetooth for prolonging battery life.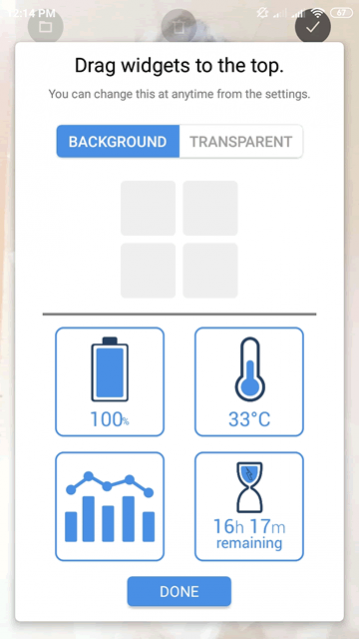 This battery widget provides you a variety of widget options to place on your home screen. Each widget option is different and presents a unique look to you. You will find these widget options by navigating to the widgets menu of your phone. After selecting the widget that you find to your liking, you will be asked to customize the widget as per your preferences. You can select the options that would be available in the widget as well as its font style and color. This would enable you to give the widget the same styling as the rest of your desktop. You can also customize the color theme of the widget you choose too. All of these customization options can be found in the Settings menu of the app.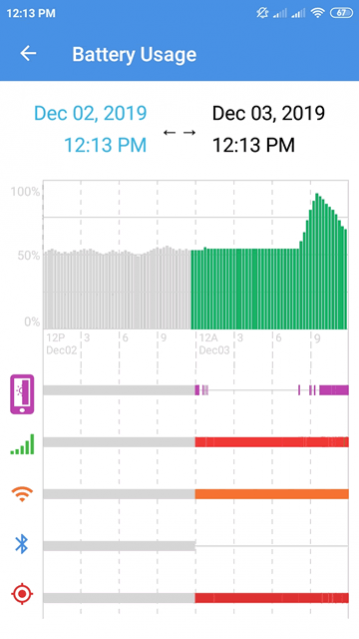 Battery Widget Percentage Charge Level (Free) doesn't just tell you the battery power you have left on your phone. It also tells you which of your apps are consuming the most power. You can look that up by clicking the 'Battery' button located on the home screen. It will direct you to the screen where you can see the battery usage stats. Here you will get to know which app is responsible for draining your phone battery so quickly. In addition to this, there is a battery history graph provided in this app as well. It offers detailed and comprehensive information about the battery's usage and performance history.
Features:
User-friendly interface
Simple design and layout
Various widget options available
Option to create your widget as per your preferences
View the remaining battery power in percentage
Find out the time duration after which you will have to recharge
Check the health of the battery
View the battery's temperature
Find out which apps are consuming most power
Detailed and comprehensive battery history graph
Supports multiple languages
Battery alarms to notify you when the battery is fully charged
Conclusion:
Battery Widget Percentage Charge Level (Free) is an app that is designed for people who are worried about their phone's battery consumption. It provides them the opportunity to see how much battery power they have left and when they would need to recharge their device. It is a battery widget worth having on your phone's home screen.
---
Add a review
Tell us your experience with
Battery Widget Percentage Charge Level (Free)
6.1.7
RELATED PROGRAMS
Our Recommendations
---
---
---
---